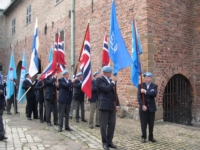 21 september som er "The International Day of Peace" blir det et kort arrangement i FNVLFs regi i samarbeid med WVF hvor vi nå har klart å samle over 50 deltagende land under parolen "Veterans Walk for Peace".
"The International Day of Peace was established in 1981 by the United Nations as an annual observance of global non-violence and ceasefire.
We as veterans has adopted this day and will arrange Veterans Walk for Peace on 21th of September 2008 in more than 50 countries to support Human Rights and world peace."
Fremmøte kl 1100 søndag 21 september 2008 på Akershus Festning. Der vil Veterankompaniet sørge for at alle blir oppstilt og klar til avmarsj til Fredssentret. Avmarsj Kl 11.30.

Det blir en meget fin tur gjennom Karl Johans Gate med flagg/faner/musikk/Veterankompaniet og en banner med "Veterans Walk for Peace" foran i "toget".
Kl 1215 blir appeller avholdt ved Fredssentret.

Les mer på FNVLF