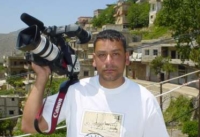 If somebody told me one year ago that during the next year I was going to see Norway and get a bunch of new Norwegian friends I would have told them "You are just kidding. The Norwegians has left Lebanon and my dream to see their country will forever be just a dream" Now I know how wrong that was. I have learned that you Norwegians still have strong memories of us Lebanese like we have strong memories about you. I have experienced your country as you have experienced mine. In this article I will write about my trip to Norway in august 2003.
Av Ramiz Dalli
Chebaa
I want to begin with the departure from Lebanon. I had been looking forward to this day not only for a few days, weeks or months, but for more than 20 years. Now that I was so close to achieving my dream I had to pinch myself to check if I was awake. I am not lying when I tell you that my heart was beating extra hard and fast all the way from Beirut Airport to Oslo Airport. When I eventually reached there I was met with a warm hearted welcome by Mr Jan Erik Kristiansen and his wife Kjerstin sveen . When I got out to breathe the Norwegian air I was so happy that I kneeled down and kissed the ground of your country.
I spent a nice time in the house of Mr and Mrs Kristiansen, and I later found out that this hospitality was no coincidence as I later experienced the same feeling of being welcome when I visited nice and friendly people such as Mr Frode Thomas Sivertsen in Tonsberg, Mr Tom Eirik Ruud, Olav Bjorneraas, DR, Tor joranli, Fred dyreseth,Eddy larsen, Fred Gallefoss and also Freds sister Metta and her husband Einar in Aalesund just to name a few of all the wonderful people that I met.
So what was I doing during my stay in Norway? Let me just mention some of the highlights. Most of the group of UN-veterans that visited Lebanon earlier in the year, along with some new faces, met up for a re-union-party at Dombaas. It was a wonderful week-end spent with trips to the famous Norwegian mountain Dovre and also a visit to the local army where we tried the latest in military technology (which unfortunately I was not able to bring with me home to Lebanon…just kidding!), spent the night in the cabins of the army and last but not least had a nice barbeque evening on Friday.
It is not possible to write about a trip to Norway without mentioning the nature. I can say honestly that I cannot recall any place I visited that was not pretty, but I want to single out the trips that we made to the impressive fjords and mountains. Places like Geiranger, Romsdalen and Trollveggen will forever stay in my mind. It was awesome and breathtaking view of some of the most beautiful places in the world. To this day I dream about it.
After this we went to Tonsberg to frode Thomas home , a nice and small town along the south-east coast where I discovered the pleasure of going by boat. We visited a place called "The end of the world". Perhaps it really was the end of the world, but it was not the end of the trip for us. We spent the last days in Oslo where we after some sightseeing had a great party at a Lebanese restaurant called "Al Chouf", with great food, great music and a kind of traditional arabic dancing that seemed to be particulary popular among men for some reason….. Among the guest were again the UN-veterans from the trip, other veterans together with their wifes and girlfriends. I was very grateful that people from far away made the effort to come to the "farewell"-party.
Finally I want to thank all the people that made this lifelong dream possible for me. All of you that went to Lebanon earlier this year, all of you that took the effort to co-sponsor my trip to Norway, all of you that offered me rooms in your houses and in my hearts and all the people that travelled to meet me at various locations in Norway. In return you all have a special place in my heart and there will always be a room available for you whenever you come to Lebanon. I also want to thank my travelling companion from Lebanon, George, for the good times we spent together.
thanks for all my friends.
Ramiz Dalli