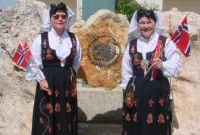 Perhaps some of you who visited Lebanon as well as some of you who did not go this time would like to read about my memories and experiences from the trip. It is not easy to know from where I shall begin, but I will begin from the meeting when I got to know all of you on the tour.
Av Ramiz Dalli
Chebaa
It was nice to hear the language again, it really turned back the years to the time when I used to hear it everyday. I was lucky to join the discovery of Lebanon together with you, because I got to know my own country even more. Through you I know now who I am and to what I belong. Through you I repeated my own past and memory that I could not forget - from the time when the Norwegians was in Lebanon. This was a new experience for me, and I will never forget it.
Three things made me cry in this tour:
1. I know that some of you were sure that you was going to be wished welcome from my people, even if all these years has passed - some of you had not been in Lebanon for 25 years. Many of you said way back when you was serving with UNIFIL that you was going to come back one fine day, and now finally the time was right to come back after all those years. One guy said to me: "I am going to Blat. I do not know if anyone I know is still there, because so many has left for the capital, for foreign jobs, has married and all that…." When he got back he told me: "When I left 15 years ago two girls who lived beside the HQ were ten years old, when I got out of the car then I heard my name called: "Frode…!" When I heard that my tears started to fall because I was so happy and for sure the UN-veteran felt the same.
2. I am a Lebanese, and proud that the Israelis went out of the occupied parts of Lebanon after meeting resistance like you are proud that your occupiers had to leave in the end. Also I am happy to see that the Norwegians love your country like we love ours, and that you never forget your fellow countrymen who gave their life while securing peace for Lebanon. When you gave flowers to them, 21 in all, in Ebel Es Saqi and also celebrated May the 17th there it made me cry. We are so thankful and we will never forget the families of the ones that lost their lives, like the son who lost his father in the helicopter accident who decided to come back to honor his memory.
3. Finally before you returned to Norway I was wishing for this trip to last
for long since it was so nice, and I really cried when you left. I got to be
friends with each member and I got used to having them there with me. I believe all of you discovered/rediscovered that Lebanon is a small but beautiful and friendly country . I want to wish you welcome to us at every time, I hope to see all of you again. I have a special fond memory of each and everyone of you Norwegians on the trip. I want to thank you for the time we spent together. I recommend every Norwegian that has served with UN in Lebanon as well as his friends and families to take a trip to Lebanon.
Finally I want to thank the people that helped me to experience this trip
together with you: Svein Viland and Fred Gallefoss from Norwegian Veterans Network, and Pål Bjørge.



Ramiz Dalli fotografert i på taket til 4-7 HQ i Chebaa, mai 2003
Best wishes,
Ramiz