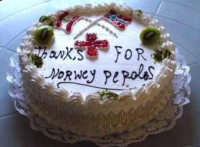 I guess that it comes as no surprise to most of you that there was a kind of abstinence in the local communities when the last contingent of Norbat left South Lebanon in 1998. The reasons behind that feeling were many. I can only briefly mention financial reasons, security reasons and social reasons….subjects that I will scrutinize in later articles.
Av Ramiz Dalli
Chebaa
While some of the holes that the Norwegians left was easy to fill, others were not. One of the trickier ones in my village Chebaa was the lack of medical service after the clinic that UN ran in Chebaa Group HQ was shut down. For years this clinic had been the natural place to go whenever we had big or small problems; first-aid, bandages, medication or just some advice from the medic. For a while now we were dependant that one of three village doctors were at their office or house if some emergency situation should arise, and there was no ambulance service closer than Hasbaya. That meant that valuable time would get lost if someone needed first aid. At first it did not seem to be a solution for this problem. We had managed living without such services before the Norwegian opened their mini-hospital which gave 24-hour service to civilians when needed, so perhaps it was possible to manage now also?
The solution came partly because of another kind of abstinence. Some of the youth missed the feeling of action that the Norwegians had provided, it is no secrets that barriers like language had made distance between them and the new soldiers from India larger. The idea that we had to take more care of our own affairs and thereby get the action that we all longed for soon arised, but it was not until 2001 things started to happen. With the Israelis out of the South the Lebanese government started to be more involved with developments in our area. We manager to persuade them to put a house at our disposal, and soon that house was turned into a hospital. The Lebanese Red Cross was contacted and we were taken under their umbrella. An ambulance was bought in with the help of wealthy citizens of Chebaa. However the economy continued to make us dependant on charity and gifts. A man from Chebaa living in Norway contacted the Red Cross there and managed to get us uniforms. Still a lot of equipment is needed, but it is difficult financially.
During the year that the Chebaa-branch of Red Cross has operated lives has been saved. More than twenty young people devote much of their time to give the residents of Chebaa a 24-hour medical service. What do we get in return apart from the good feeling that you get when you help other people? Well we get some medication for their abstinence that the Norwegians left us with. Now we are again part of the action. Inspired by our former Norwegian friends, much of the schedule and training will remind you about the "good old days" when Norbat was here.
Thanks to the norwegian people, Ramiz Dalli
Ramiz er fra Chebaa og jobber som frilans journalist og fotograf i Libanon.