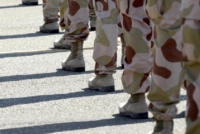 Her følger siste oppdaterte oversikt over norsk militært personell som tjenestegjør i INTOPS. Oversikten er hentet fra Forsvaret og er oppdatert i august 2007.
United Nations Truce Supervision Organization (Untso):
13 FN-observatører
Egypt:
Multinational Force and Observers (MFO):
6 observatører
AFRIKA
Sudan:
United Nations Mission in Sudan (Unmis):
30 FN-observatører og stabsoffiserer
Etiopia og Eritrea:
United Nations Mission to Ethiopia and Eritrea (Unmee):
3 FN-observatører, alle i Etiopia
Somalia:
United Nations Political Office for Somalia:
1 militærrådgiver
EUROPA
Kosovo:
Kosovo Force (Kfor) og United Nations Interim Administration Mission in Kosovo (Unmik):
8 stabsoffiserer
Bosnia:
13 stabsoffiserer (både Nato/Eufor HQ og Liaison Observer team i Cazin)
ASIA
Afghanistan:
International Security Assistance Force (Isaf):
Totalt 590 soldater og offiserer, herunder Isaf-ledelsen i Kabul, Provincial Reconstruction Team i Meymaneh og Mazar-e Sharif.
Nepal:
United Nations Mission in Nepal (Unmin):
3 FN-observatører